Overview
When a tendon ruptures it can be extremely painful and cause a disability of the foot that then subsequently causes damage to the ankle joints. The tendons in the ankle include: the peroneals (peroneus brevis, peroneus longus,) anterior tibialis, posterior tibialis, and Achilles tendon. Any of these structures can become ruptured, which is a serious condition that will typically require surgery to fix.
Causes
Often an Achilles rupture can occur spontaneously without any prodromal symptoms. Unfortunately the first "pop" or "snap" that you experience is your Achilles tendon rupture. Achilles tendon rupture most commonly occurs in the middle-aged male athlete (the weekend warrior who is engaging in a pickup game of basketball, for example). Injury often occurs during recreational sports that require bursts of jumping, pivoting, and running. Most often these are tennis, racquetball, squash, basketball, soccer, softball and badminton. Achilles rupture can happen in the following situations. You make a forceful push-off with your foot while your knee is straightened by the powerful thigh muscles. One example might be starting a foot race or jumping. You suddenly trip or stumble, and your foot is thrust in front to break a fall, forcefully over stretching the tendon. You fall from a significant height. It does appear that previous history of Achilles tendonitis results in a degenerative tendon, which can grow weak and thin with age and lack of use. Then it becomes prone to injury or rupture. Certain illnesses (such as arthritis and diabetes) and medications (such as corticosteroids and some antibiotics) can also increase the risk of rupture.
Symptoms
Although it's possible to have no signs or symptoms with an Achilles tendon rupture, most people experience pain, possibly severe, and swelling near your heel. An inability to bend your foot downward or "push off" the injured leg when you walk. An inability to stand up on your toes on the injured leg. A popping or snapping sound when the injury occurs. Seek medical advice immediately if you feel a pop or snap in your heel, especially if you can't walk properly afterward.
Diagnosis
Diagnosis is made mostly by clinical examination with a defect usually noted on visual examination and by touching the area. A simple test can be done by squeezing the back of the calf with the foot resting in the air. Normally when squeezing the muscle belly the tendon will shorten causing the foot to move in a downward position. With a rupture this squeezing effect may show no movement of the foot if it is not attached properly. A negative test does not mean there isn't some degree of rupture as some of the tendon fibers may still be attached. Sometimes x-rays, an mri, or an ultrasound can be helpful in determining the extent of the rupture.
Non Surgical Treatment
A medical professional will take MRI scans to confirm the diagnosis and indicate the extent of the injury. Sometimes the leg is put in a cast and allowed to heal without surgery. This is generally not the preferred method, particularly for young active people. Surgery is the most common treatment for an achilles tendon rupture.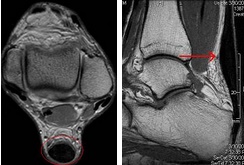 Surgical Treatment
Operative treatment involves a 6cm incision along the inner side of the tendon. The torn ends are then strongly stitched together with the correct tension. After the operation a below knee half cast is applied for 2 weeks. At 2 weeks a brace will be applied that will allow you to move the foot and fully weight-bear for a further 6 weeks. After this you will need physiotherapy. Surgery carries the general risks of any operation but the risk of re-rupture is greatly reduced to 2%. The best form of treatment is controversial with good results being obtained by both methods but surgery is generally recommended for patients under 60 years of age who are fit and active with an intra-substance tear.
Prevention
The following can significantly reduce the risk of Achilles tendon rupture. Adequate stretching and warming up prior to exercising. If playing a seasonal sport, undertake preparatory exercises to build strength and endurance before the sporting season commences. Maintain a healthy body weight. This will reduce the load on the tendon and muscles. Use footwear appropriate for the sport or exercise being undertaken. Exercise within fitness limits and follow a sensible exercise programme. Increase exercise gradually and avoid unfamiliar strenuous exercise. Gradual ?warm down? after exercising.